News
McCarthy and Stone, who provide retirement appartements, have kindly supported our work by sponsoring our Online Streaming. When you click on our stream on the website or our free App you hear their sponsor message. We are very grateful for their support. You can download our free App by scanning the QR codes below.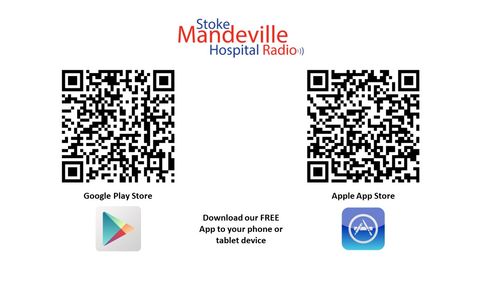 To celebrate the NHS 75th Birthday we broadcast a special live five hour programme from Café Oasis located in the Spinal Unit at the hospital. Lots of great music requests, interviews with staff and patients at the hospital and some amazing give-aways as well. Tony Hadley, who is a big supporter of SMHR, came along for an interview.
Ken Bruce spent the afternoon at our studios recording a special programme about hospital radio that will be going out on Greatest Hits Radio and SMHR on the 5th July - the NHS 75th Birthday. Peter Dickson, voice of The X Factor, came along as well to take part. Ken spoke to Martin Kinch who has been at our station for 44+ years. Here are a few pictures from the day.
Ken Bruce, our patron, has recorded a lovely message speaking of the importance of hospital radio. We are hugely grateful for Ken's support for the work we do at Stoke Mandeville Hospital.
The Buckinghamshire Healthcare Annual Awards took place last night at the Aylesbury Waterside Theatre, Stoke Mandeville Hospital Radio was recognised for its 45 years "On Air" with a special surprise video about our history and a message from our Patron Ken Bruce
We have just launched our brand new FREE Stoke Mandeville Hospital Radio App. If you had our previous App installed please now un-install it. Then go to the Google Play or Apple App store and download our new App. You can also just use your smart device to scan one of the QR Codes below.